This post originally appeared at Market Urbanism, a blog about free-market urban development.
After receiving years of praise for its work in post-Katrina recovery, Brad Pitt's home building organization, Make It Right, is receiving some media criticism. At the New Republic, Lydia Depillis points out that the Make It Right homes built in the Lower Ninth Ward have resulted in scarce city dollars going to this neighborhood with questionable results. While some residents have been able to return to the Lower Ninth Ward through non-profit and private investment, the population hasn't reached the level necessary to bring the commercial services to the neighborhood that it needs to be a comfortable place to live.
After Hurricane Katrina, the Mercatus Center conducted extensive field research in the Gulf Coast, interviewing people who decided to return and rebuild in the city and those who decided to permanently relocate. They discussed the events that unfolded immediately after the storm as well as the rebuilding process. They interviewed many people in the New Orleans neighborhood surrounding the Mary Queen of Vietnam Church. This neighborhood rebounded exceptionally well after Hurricane Katrina, despite experiencing some of the city's worst flooding 5-12-feet-deep and being a low-income neighborhood. As Emily Chamlee-Wright and Virgil Storr found [pdf]:
Within a year of the storm, more than 3,000 residents had returned [of the neighborhood's 4,000 residents when the storm hit]. By the summer of 2007, approximately 90% of the MQVN residents were back while the rate of return in New Orleans overall remained at only 45%. Further, within a year of the storm, 70 of the 75 Vietnamese-owned businesses in the MQVN neighborhood were up and running.
Virgil and Emily attribute some of MQVN's rebuilding success to the club goods that neighborhood residents shared. Club goods share some characteristics with public goods in that they are non-rivalrous — one person using the pool at a swim club doesn't impede others from doing so — but club goods are excludable, so that non-members can be banned from using them. Adam has written about club goods previously, using the example of mass transit. The turnstile acts as a method of exclusion, and one person riding the subway doesn't prevent other passengers from doing so as well. In the diagram below, a subway would fall into the "Low-congestion Goods" category: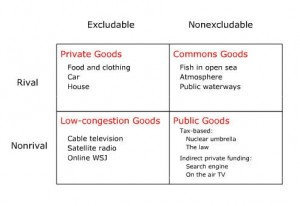 In the case of MQVN, the neighborhood's sense of community and shared culture provided a club good that encouraged residents to return after the storm. The church provided food and supplies to the first neighborhood residents to return after the storm. Church leadership worked with Entergy, the city's power company, to demonstrate that the neighborhood had 500 residents ready to pay their bills with the restoration of power, making them one of the city's first outer neighborhoods to get power back after the storm.
While resources have poured into the Lower Ninth Ward from outside groups in the form of $400,000 homes from Make It Right $65 million  in city money for a school, police station, and recreation center, the neighborhood has not seen the success that MQVN achieved from the bottom up. This isn't to say that large non-profits don't have an important role to play in disaster recovery. Social entrepreneurs face strong incentives to work well toward their objectives because their donors hold them accountable and they typically are involved in a cause because of their passion for it. Large organizations from Wal-Mart to the American Red Cross provided key resources to New Orleans residents in the days and months after Hurricane Katrina.
The post-Katrina success of MQVN relative to many other neighborhoods in the city does demonstrates the effectiveness of voluntary cooperation at the community level and the importance of bottom-up participation for long-term neighborhood stability. While people throughout the city expressed their love for New Orleans and desire to return in their conversations with Mercatus interviewers, many faced coordination problems in their efforts to rebuild. In the case of MQVN, club goods and voluntary cooperation permitted the quick and near-complete return of residents.
---
Variety reports that Brad Pitt's Make It Right Foundation is seeking stimulus money to continue their work building houses in New Orleans' Lower Ninth Ward:
In a high profile appearance that even drew live coverage on MSNBC, Pitt visited Washington in March to promote Make It Right, meeting with President Obama and House Speaker Nancy Pelosi, along with an array of cabinet secretaries and other elected officials, including Shaun Donovan and Energy Secretary Steven Chu. With Pitt was producer Steve Bing, who has been a benefactor of his housing project.
The foundation was among 12 non-profits joining with the New Orleans Redevelopment Authority to file an application last week for a total of $65 million through the Neighborhood Stabilization Program, which is administered by the Department of Housing and Urban Development. If they get the funding, Make It Right would probably start spending the money in the spring of 2010. Depending on how many homes the foundation has built by then, it could be used to reach their goal of 150 homes in New Orleans or it could expand the program beyond that, said Kim Haddow, a spokeswoman for Make It Right.
The Make It Right Foundation (profiled here on ABC's 20/20) — as well as dozens if not hundreds of other local initiatives and non-profits — have done incredible work in rebuilding the Gulf Coast after Hurricane Katrina. But much of this success is due to their independence from large government bureaucracies. Stimulus funding has the potential to act as what Jane Jacobs called "cataclysmic money." There is a real danger that if social entrepreneurs and non-profits like Pitt's become dependent upon federal funds, they will in effect become arms of the federal government. This would have a dangerous effect on civil society, and reduce our resilience to disasters and shocks, whether natural or economic.
Another problem, of course, is that it's not a lack of committed federal funds that have slowed rebuilding in New Orleans; it's the difficulty with getting that money to the street level, and the mixed and oft-changing signals emanating from all levels of government. Stimulus money has the potential to be yet another promise that never comes to fruition, or comes too late to be helpful.
And moreover, having one of the lowest unemployment rates in the country, is New Orleans really the ideal place to invest stimulus cash?
The foundation also seeks funds to build and refurbish housing in Newark, New Jersey:
In Newark, Make It Right is among a consortium of public and private entities led by the city, which is seeking $45 million in stimulus funds for a wide range of projects to redevelop demolished or vacant properties as housing, and to purchase and rehab abandoned foreclosed homes to sell or rent.
Make It Right's portion of the Newark application — budgeted at $7.3 million — calls for it to produce a high-density, mixed-use 112 unit development at the entrance to the Fairmount Heights neighborhood that "will combine high quality urban design and world-class architecture, achieving the highest possible levels of energy efficiency and environmental sustainability." The proposal also includes retail space and plans for a 10,000- to 20,000- square foot community center to be operated by the Boys and Girls Club, as well as about a half-acre for a park.
More on redevelopment in Newark here.
---