This post originally appeared at Market Urbanism, a blog about free-market urban development.
After receiving years of praise for its work in post-Katrina recovery, Brad Pitt's home building organization, Make It Right, is receiving some media criticism. At the New Republic, Lydia Depillis points out that the Make It Right homes built in the Lower Ninth Ward have resulted in scarce city dollars going to this neighborhood with questionable results. While some residents have been able to return to the Lower Ninth Ward through non-profit and private investment, the population hasn't reached the level necessary to bring the commercial services to the neighborhood that it needs to be a comfortable place to live.
After Hurricane Katrina, the Mercatus Center conducted extensive field research in the Gulf Coast, interviewing people who decided to return and rebuild in the city and those who decided to permanently relocate. They discussed the events that unfolded immediately after the storm as well as the rebuilding process. They interviewed many people in the New Orleans neighborhood surrounding the Mary Queen of Vietnam Church. This neighborhood rebounded exceptionally well after Hurricane Katrina, despite experiencing some of the city's worst flooding 5-12-feet-deep and being a low-income neighborhood. As Emily Chamlee-Wright and Virgil Storr found [pdf]:
Within a year of the storm, more than 3,000 residents had returned [of the neighborhood's 4,000 residents when the storm hit]. By the summer of 2007, approximately 90% of the MQVN residents were back while the rate of return in New Orleans overall remained at only 45%. Further, within a year of the storm, 70 of the 75 Vietnamese-owned businesses in the MQVN neighborhood were up and running.
Virgil and Emily attribute some of MQVN's rebuilding success to the club goods that neighborhood residents shared. Club goods share some characteristics with public goods in that they are non-rivalrous — one person using the pool at a swim club doesn't impede others from doing so — but club goods are excludable, so that non-members can be banned from using them. Adam has written about club goods previously, using the example of mass transit. The turnstile acts as a method of exclusion, and one person riding the subway doesn't prevent other passengers from doing so as well. In the diagram below, a subway would fall into the "Low-congestion Goods" category: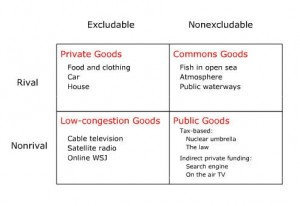 In the case of MQVN, the neighborhood's sense of community and shared culture provided a club good that encouraged residents to return after the storm. The church provided food and supplies to the first neighborhood residents to return after the storm. Church leadership worked with Entergy, the city's power company, to demonstrate that the neighborhood had 500 residents ready to pay their bills with the restoration of power, making them one of the city's first outer neighborhoods to get power back after the storm.
While resources have poured into the Lower Ninth Ward from outside groups in the form of $400,000 homes from Make It Right $65 million  in city money for a school, police station, and recreation center, the neighborhood has not seen the success that MQVN achieved from the bottom up. This isn't to say that large non-profits don't have an important role to play in disaster recovery. Social entrepreneurs face strong incentives to work well toward their objectives because their donors hold them accountable and they typically are involved in a cause because of their passion for it. Large organizations from Wal-Mart to the American Red Cross provided key resources to New Orleans residents in the days and months after Hurricane Katrina.
The post-Katrina success of MQVN relative to many other neighborhoods in the city does demonstrates the effectiveness of voluntary cooperation at the community level and the importance of bottom-up participation for long-term neighborhood stability. While people throughout the city expressed their love for New Orleans and desire to return in their conversations with Mercatus interviewers, many faced coordination problems in their efforts to rebuild. In the case of MQVN, club goods and voluntary cooperation permitted the quick and near-complete return of residents.
---
As the month of March draws to a close, most governors have, by this point, taken to the podiums of their respective states and outlined their priorities for the next legislative year in their State of the State addresses. Mike Maciag at Governing magazine painstakingly reviewed the transcripts of all 49 State of the State addresses delivered so far (Louisiana, for some reason, takes a leisurely approach to this tradition) and tallied the most popular initiatives in a helpful summary. While there were some small state trends in addressing hot-button social issues like climate change (7 governors), gay rights (7 governors), and marijuana decriminalization (2 states), the biggest areas of overlap from state governors concerned Medicaid spending and state pension obligations.
Medicaid Spending
Judging from their addresses, the most common concern facing governors this year is the expansion of state Medicaid financing prompted by the Supreme Court's ruling on the Affordable Care Act last year. While the ACA originally required states to raise their eligibility standards to cover everyone below 138 percent of the federal poverty level, the Supreme Court overturned this requirement and left up to the states whether or not they wanted to participate in the expansion in exchange for federal funding or politely decline to partake.  The governors of a whopping 30 states referenced the Medicaid issue at least once during their speech. Some of the governors, like Gov. Phil Bryant of Mississippi, brought up the issue to explain why they made the decision to become one of the 14 states that decided not to participate in the expansion. Others took to defending their decision to participate in the expansion, like Gov. John Kasich of Ohio, who outlined how his state's participation would benefit fellow Buckeyes suffering from mental illness and addiction.
Neither the considerable amount of concern nor the markedly divergent positions of the governors are especially shocking. A recent Mercatus Research paper conducted by senior fellow Charles Blahous addresses the nebulous options facing state governments in their decision on whether to participate in the expansion. This decision is not one to make lightly: in 2011, state Medicaid spending accounted for almost 24 percent of all state budget expenditures and these costs are expected to rise by upwards of 150 percent in the next decade. The answer to whether a given state should opt in or opt out of the expansion is not a straightforward one and depends on the unique financial situations of each state. Participating in the Medicaid expansion may indeed make sense for Ohioans while at the same time being a terrible deal for Mississippi. However, what is optimal for an individual state may not be good for the country as a whole. Ohio's decision to participate in the expansion may end up hurting residents of Mississippi and other states who forgo participating in the expansion because of the unintended effects of cost shifting among the federal and state governments. It is very difficult to project exactly who will be the winners or losers in the Medicaid expansion at this point in time, but is very likely that states will fall into one of either category.
Pensions
Another pressing concern for state governors is the health (or lack thereof) of their state pension systems. The governors of 20 states, including the man who brought us "Squeezy the Pension Python" himself, Illinois Gov. Pat Quinn, tackled the issue during their State of the State addresses. Among these states are a few to which Eileen has given testimony on this very issue within the past year.
In Montana, for instance, Gov. Steve Bullock promised a "detailed plan that will shore up [his state's] retirement systems and do so without raising taxes." While I was unable to find this plan on the governor's website, two dueling reform proposals–one to amend the current defined benefit system, another to replace it with a defined contribution system–are currently duking it out in the Montana state legislature. While it is unclear which of the two proposals will make it onto the law books, let's hope that the Montana Joint Select Committee on Pensions heeds Eileen's suggestions from her testimony to them last month, and only makes changes to their pension system that are "based on an accurate accounting of the value of the benefits due to employees."
---
Michigan's Governor Rick Synder may be greeted by protestors when he arrives for a meeting today on Detroit's financial condition. His recent appointment of Kevyn Orr as the city's emergency financial manager has angered many of Detroit's residents who are afraid he has powers that are far too sweeping and is thereby destroying local control. The purpose of the financial manager law is to help the city stave off bankruptcy and allows the emergency manager the ability to renegotiate labor contracts and potentially sell city assets. The last recession has worsened the already-struggling city's financial outlook. Detroit has a $327 million budget deficit and $14 billion in long-term debt and has shown very little willingness to make the kind of structural changes it needs in order to stay solvent.
Detroit's problems are acute. The city's population has fallen from 1.8 million to 700,000, giving the city, "a look and feel that rivals post World War II Europe." But as Public Sector Inc's Steve Eide writes, the real problem is that local leaders have proven unable to deal with fiscal realities for far too long. His chart shows the consequences. The gap between estimated revenues and expenditures over time is striking. In sum, Detroit overestimates its revenues and underestimates its spending, by a lot, when it plans for the budget. That is a governance and administration crisis and one that the state has decided needs outside intervention to set straight.
Standard & Poors likes the appointment and has upgraded Detroit's credit rating outlook to "stable."
---
There are many smart people who think that deficits are a problem, but not now. Right now, they say, we need growth. And growth, according to standard Keynesian theory, requires higher deficits today. This perspective has three problems.
That's me at US News. Click here to see why I think the "no need to worry now" view is wrong. And if you agree with me, let your voice be heard and please vote!
---
Reuters reports that an emergency financial manager might provide Detroit with a path toward bankruptcy. This week I'm at US News writing on how an emergency financial manager might help the city renegotiate the obligations that it cannot afford to pay:
An emergency financial manager will have a greater incentive than elected city officials to improve Detroit's financial standing. For any Michigan politician, Detroit's municipal employees make up an important group of voters. However, their political influence is more concentrated at the city level, and as an interest group they have diminished power at the state level. Because the emergency financial manager will be responsible to the governor and state legislature, he or she will not face the pressures to appease city employees that local policymakers confront.
---
The Purple Line's uncertain future
Maryland's new gas tax for transportation
Is Maryland copying Virginia's new sales tax?
---
The research organization TRIP finds that traffic congestion comes at a steep price for drivers in the Washington, DC area. They determine that congestion and poor road conditions cost drivers $2,195 annually in lost time and the added vehicle operating costs of driving on congested, poor quality roads.
TRIP supports increased infrastructure spending, and I haven't looked into their methodology, but undeniably DC-area drivers waste copious time sitting in traffic. Despite this, a Washington Post poll finds that Maryland drivers do not support higher taxes to pay for road expansion or maintenance. Perhaps increased taxes are unpopular because state residents believe that transportation projects involve wasteful spending that won't improve conditions for drivers. Additionally, they may realize that traffic congestion is very difficult to overcome in a world of zero-price roads. Because additional roads lower the time cost of driving, additional lanes induce more people to drive farther. Building enough roads to eliminate congestion for everyone who would like to use them at zero-price in DC's rush hour might not be possible, as reducing the region's congestion problems would even lead more people to move to the area.
An alternative to raising taxes to fund new road construction would be to implement congestion pricing on area roads. Roads could be electronically tolled and priced at the rate that will eliminate congestion, varying with driver demand. So far municipalities have tended to implement congestion pricing on new highways. Here in the DC area, the 495 Express Lanes opened in November with congestion pricing. The new lanes were funded primarily by a private company, and the tolls are not yet meeting revenue projections; many drivers are choosing to continue driving on more congested, zero-price roads. However, congestion pricing doesn't necessarily need to be implemented on a new road. Alternatively, policymakers could implement congestion pricing on existing roads or on specific lanes to reduce congestion for those willing to pay.
Tolls are often politically unpopular because, as Donald Shoup points out in The High Cost of Free Parking, people are often very opposed to paying user fess for a provision that has previously been funded by taxpayers broadly. However, the gains from congestion pricing may outweigh the political costs. Allocating road use through prices puts roads to higher-value uses. Assuming that TRIP's estimate of the cost of congestion is correct for the average driver, this cost will vary widely among drivers who value their time differently, and drivers will value their own time differently depending on the day and the importance of being on time to their destination. Thus pricing roads according to demand allows those who have flexible schedules to drive when roads are otherwise uncrowded, and those who place a high value on their time will be willing to pay a high toll for the convenience of saving time and reaching their destination promptly.
---
On May 28, 1986, Ronald Reagan delivered an Oval Office speech calling for tax reform: a revenue-neutral plan to reduce marginal tax rates and close scores of loopholes that privileged particular firms, industries, and individuals. The Great Communicator lived up to his reputation, delivering a flawless speech that somehow managed to evoke lofty images ("Two centuries later, a second American revolution for hope and opportunity is gathering force again") and yet grounded these images in relatable prose ("No other issue will have more lasting impact on the well-being of your families and your future.")
Democratic House Speaker Tip O'Neill asked Ways and Means Chairman Dan Rostenkowski to deliver the Democratic response. The choice was controversial. Over the previous five years, the Democrats had flopped in just about every one of their responses to the president custom essay. Rostenkowski, famous for his mumbled delivery and mixed metaphors, seemed unlikely to do any better. Here is what the congressman said:
Good evening, I'm Dan Rostenkowski from Chicago. Let me read you something that pretty well explains what tax reform is all about, and what Democrats are all about.

[Reading from a book] "The continued escape of privileged groups from taxation violates the fundamental democratic principle of fair treatment for all and undermines public confidence in the tax system." That was Harry Truman's message to Congress thirty-five years ago.

Trying to tax people fairly: That's been the historic Democratic commitment. Our roots lie with working families all over the country, like the Polish neighborhood I grew up in on the northwest side of Chicago. Most of the people in my neighborhood worked hard in breweries, steel mills, packing houses; proud families who lived on their salaries. My parents and grandparents didn't like to pay taxes. Who does? But like most Americans they were willing to pay their fair share as the price for a free country where everyone could make their own breaks.

Every year politicians promise to make the tax code fair and simple, but every year we seem to slip further behind. Now most of us pay taxes with bitterness and frustration. Working families file their tax forms with the nagging feeling that they're the biggest suckers and chumps in the world. Their taxes are withheld at work, while the elite have enormous freedom to move their income from one tax shelter to another. That bitterness is about to boil over. And it's time it did.

But this time there's a difference in the push for tax reform. This time, it's a Republican president who's bucking his party's tradition as protectors of big business and the wealthy. His words and feelings go back to Roosevelt and Truman and Kennedy. But the commitment comes from Ronald Reagan and that's so important and so welcome.

Because, if the president's plan is everything he says it is, he'll have a great deal of Democratic support. That's the real difference this time. A Republican president has joined the Democrats in Congress to try to redeem this long-standing commitment to a tax system that's simple and fair. If we work together with good faith and determination, this time the people may win. This time I really think we can get tax reform.
Then, he asked the audience to send letters of support:
Even if you can't spell Rostenkowski, put down what they used to call my father and grandfather—Rosty. Just address it to R-0-S-T-Y, Washington, D.C. The post office will get it to me. Better yet, write your representative and your senator. And stand up for fairness and lower taxes.
This account comes from Jeffrey Birnbaum and Alan Murray's classic history of the 1986 tax reform, Showdown at Gucci Gulch. They write:
When the speech was over, and the microphones were turned off, the camera crew did something Rothstein [Rostenkowski's media consultant] had not seen before: they broke into applause. "That was my first clue we hit it over the fence," Rothstein says.
The second clue was an ecstatic call from the White House. The third was the incredible response from the American people who deluged Washington with more than seventy-five thousand supportive letters addressed to "Rosty."
I'm not one for nostalgia. I think many humans have a tendency to look at history through sepia-colored glasses that idealize our own political and cultural past.
But it is hard to read Rostenkowski's speech without seeing the glaring contrast with today's political rhetoric. The speech is still partisan in a way: He makes it seem as if Democrats had always wanted a simpler and fairer code and he congratulates Reagan for coming around to their view. This is, of course, ahistorical as both parties were at fault for a tax code riddled with loopholes. But the whole thrust of the speech seems designed to make the other side feel safe about moving towards Rostenkowski's position.
As an economist, I'm accustomed to thinking about human interaction as exchange: when two people meet, there is almost always an opportunity for mutually beneficial exchange (though transactions costs mean that many of these opportunities are unrealized). And the more different these people are in their tastes and in their productive abilities, the greater the opportunity for exchange.
It is interesting that more politicians don't see their task as one of getting "the other side" to feel comfortable about abandoning its position and moving toward the middle. Instead, politicians seem to increasingly address themselves to their own base. Unfortunately, what draws the base in often pushes the other side away.
In a follow-up post, I'll address some possible explanations for this.
---
Last week, Steven Mufson of the Washington Post reported:
The Energy Department gave $150 million in economic Recovery Act funds to a battery company, LG Chem Michigan, which has yet to manufacture cells used in any vehicles sold to the public and whose workers passed time watching movies, playing board, card and video games, or volunteering for animal shelters and community groups.
This week, Mufson's colleague Thomas Heath reports about another firm that has received gov't aide:
District-based daily-deal company LivingSocial has received a much-needed $110 million cash infusion from its investors, according to a memo the company sent to employees Wednesday.

"This investment is a tremendous vote of confidence in our business from the people who know us best, our current board members and investors," LivingSocial chief executive Tim O'Shaughnessy said in the memo, which was obtained by The Washington Post.
Mr. O'Shaughnessy is putting a nice gloss on it. A LivingSocial "senior company insider" tells PrivCo:
We scrambled for cash quickly….we did receive one other funding offer, but the current investors' terms were the least bad of two terrible proposals….which we had no choice but to take it or file for Chapter 11.
According to PrivCo, the company ended the year with just $76 million in cash and assets while it faces some $338 million in liabilities.
Readers will no doubt remember that just eight months ago, the D.C. Council unanimously voted to give LivingSocial a $32,500,000 get-out-of-tax-free card.
These stories (and the many, many more that could be told) suggest that President Obama's former economic adviser  Larry Summers, was right to warn that government is a crappy venture capitalist. Milton and Rose Friedman's simple explanation of the four ways money can be spent offers a nice explanation:
A private venture capitalist spends her own money to buy equity in a firm. And if that firm does well, she does well. Since she is spending her own money on herself, she has an incentive to both economize and seek the highest value essay service uk.
But when government policymakers play venture capitalist, they are spending other peoples' money on other people. They therefore have little incentive to either economize or seek high value. It is no wonder that they often make the wrong bets.
But the scandal has much more to do with a bad bet. Even if the bet pays off—which it sometimes does—there are problems associated with taxpayer support of private industry. There are more details in my paper, but just to name a few, government-supported industries will tend to:
Be cartelized, which means consumers are stuck with higher prices;
Use less-efficient productive techniques;
Offer lower-quality goods;
Waste resources in an effort to expand or maintain their government-granted privileges;
Innovate along the wrong margins by coming up with new ways to obtain favors rather than new ways to please customers.
Together, these costs can undermine long term growth and even short-term macroeconomic stability. And since the winners tend to be the wealthy and well-connected and the losers tend to be the relatively poor and unknown, privileges such as these undermine people's faith in both government and markets.
We should be upset when governments sink money into firms that then go bankrupt. But it is no less scandalous when government sinks funds into firms that survive.
Governments should stay out of the business of picking winners or losers.
---
I'm at US News's Economic Intelligence blog this week, writing about President Obama's proposal for universal Pre-K. One problem with his proposal is that we don't have data demonstrating that state- or federally-funded preschool will improve outcomes for children:
Accurately measuring the outcomes of education programs is critical for providing policymakers, educators, and the public with the necessary data to know what works. Without this data we cannot know whether or not putting scarce taxpayer resources toward preschool http://custom-papers-online.com/ will provide lasting benefits to participants, let alone provide societal benefits in excess of costs.
---
When companies or countries issue debt, ratings agencies assign grades based on how creditworthy the issuers are believed to be. Low grades can cost the issuers dearly.

But during the housing crisis, the major ratings firms gave the highest grades to mortgage-based securities that proved worthless uk essay writing companies. This month, the government sued one of the three dominant agencies, Standard & Poor's, saying its evaluations of some of those securities were fraudulent.

What should be done to reform the ratings industry?
That is the introduction to the latest New York Times Room for Debate forum. There are contributions from:
Reggie Middleton: "The root cause of the agencies' problems is the outrageous conflict created by having their primary revenue sources be the entities they rate, or the agents of those entities."
Lawrence J. White: "The Dodd-Frank Act of 2010 instructed federal regulators to eliminate their mandated reliance on ratings, and some bank regulators have done so. But, maddeningly, for money market funds and broker-dealers, the Securities and Exchange Commission continues to mandate reliance on ratings."
James H. Gellert: "The poor work of credit rating agencies undoubtedly played a role in the subprime mortgage crisis. But the government's lawsuit against Standard & Poor's is freighted with unintended consequences."
Claire A. Hill: "Ideally, ratings would matter less. Fewer and less precipitous actions would be taken solely because of ratings. A money manager should not be able to justify having purchased a badly performing investment by saying that he relied on the rating agencies."
And yours truly: "Since the days of Adam Smith, economists have known that a tightly restricted market will often result in higher prices and lower quality. So it was—and continues to be—with the ratings industry."
---
According to a 2008 IRS report, the Federal Tax Code "has grown so long that it has become challenging even to figure out how long it is."
A search of the Code conducted in the course of preparing this report turned up 3.7 million words. A 2001 study published by the Joint Committee on Taxation put the number of words in the Code at that time at 1,395,000. A 2005 report by a tax research organization put the number of words at 2.1 million, and notably, found that the number of words in the Code has more than tripled since 1975.
In last night's State of the Union, President Obama spoke eloquently about the need for tax reform to clean up the code:
To hit the rest of our deficit reduction target, we should do what leaders in both parties have already suggested, and save hundreds of billions of dollars by getting rid of tax loopholes and deductions for the well-off and well-connected.  After all, why would we choose to make deeper cuts to education and Medicare just to protect special interest tax breaks?  How is that fair?  How does that promote growth?

Now is our best chance for bipartisan, comprehensive tax reform that encourages job creation and helps bring down the deficit.

The American people deserve a tax code that helps small businesses spend less time filling out complicated forms, and more time expanding and hiring; a tax code that ensures billionaires with high-powered accountants can't pay a lower rate than their hard-working secretaries.
Amen. Unfortunately, a few minutes later, the President said:
Through tax credits, grants, and better loans, we have made college more affordable for millions of students and families over the last few years.
And a few lines after that:
We'll give new tax credits to businesses that hire and invest.
The tax code didn't get to be as complicated as it is by accident. Every complication; every loophole; every deduction, exemption, and credit got there because some elected official had a clever idea. It got there because someone dreamed up an innovative scheme to use the tax code as a way to encourage some sort of behavior.
The code is the way it is because politicians who decry loopholes and special-interest privileges can't see that their own clever schemes are part of the problem.
---
Economic jargon can be difficult to parse. Political speech—often by design—can be just as impenetrable. So, it stands to reason that when politicians are talking economics, it's easy to get lost. As a guide to this year's State of the Union and the Republican response, below are some translations of statements each might make.
That's me, writing over at US News's Economic Intelligence blog. The whole thing is here.
---
In my last post, I discussed several exciting tax reforms that are gaining support in a handful of states. In an effort to improve the competitiveness and economic growth of these states, the plans would lower or eliminate individual and corporate income taxes and replace these revenues with funds raised by streamlined sales taxes. Since I covered this topic, legislators in two more states, Missouri and New Mexico, have demonstrated interest in adopting this type of overhaul of their state tax systems.
At the same time, policymakers in other states across the country are likewise taking advantage of their majority status by pushing their preferred tax plans through state legislatures and state referendums. These plans provide a sharp contrast with those proposed by those states that I discussed in my last post; rather than prioritizing lowering income tax burdens, leaders in these states hope to improve their fiscal outlooks by increasing income taxes.
Here's what some of these states have in the works:
Massachusetts: Gov. Deval L. Patrick surprised his constituents last month during his State of the State address by calling for a 1 percentage point increase in state income tax rates while simultaneously slashing state sales taxes from 6.25% to 4.5%. Patrick defended these tax changes on the grounds of increasing investments in transportation, infrastructure, and education while improving state competitiveness. Additionally, the governor called for a doubling of personal exemptions to soften the blow of the income tax increases on low-income residents.
Minnesota: Gov. Mark Dayton presented a grab bag of tax reform proposals when he revealed his two-year budget plan for the state of Minnesota two weeks ago. In an effort to move his state away from a reliance on property taxes to generate revenue, Dayton has proposed to raise income taxes on the top 2% of earners within the state. At the same time, he hopes to reduce property tax burdens, lower the state sales tax from 6.875% to 5.5%, and cut the corporate tax rate by 14%.
Maryland: Last May, Maryland Gov. Martin O'Malley called a special legislative session to balance their state budget to avoid scheduled cuts of $500 million in state spending on education and state personnel. Rather than accepting a "cuts-only" approach to balancing state finances, O'Malley strongly pushed for income tax hikes on Marylanders that earned more than $100,000 a year and created a new top rate of 5.75% on income over $250,000 a year. These tax hikes were signed into law after the session convened last year and took effect that June.
California: At the urging of Gov. Jerry Brown, California voters decided to raise income taxes on their wealthiest residents and increase their state sales tax from 7.25% to 7.5% by voting in favor of Proposition 30 last November. In a bid to put an end to years of deficit spending and finally balance the state budget, Brown went to bat for the creation of four new income tax brackets for high-income earners in California. There is some doubt that these measures will actually generate the revenues that the governor is anticipating due to an exodus of taxpayers fleeing the new 13.3% income tax and uncertain prospects for economic growth within the state. 
It is interesting that these governors have defended their proposals using some of the same rhetoric that governors and legislators in other states used to defend their plans to lower income tax rates. All of these policymakers believe that their proposals will increase competitiveness, improve economic growth, and create jobs for their states. Can both sides be right at the same time?
Economic intuition suggests that policymakers should create a tax system that imposes the lowest burdens on the engines of economic growth. It makes sense, then, for states to avoid taxing individual and corporate income so that these groups have more money to save and invest. Additionally  increasing marginal tax rates on income and investments limits the returns to these activities and causes people to work and invest less. Saving and investment, not consumption, are the drivers of economic growth. Empirical studies have demonstrated that raising marginal income tax rates have damaging effects on economic growth. Policymakers in Massachusetts, Minnesota, Maryland, and California may have erred in their decisions to shift taxation towards income and away from consumption. The economies of these states may see lower rates of growth as a result.
In my last post, I mused that the successes of states that have lowered or eliminated their state income taxes may prompt other states to adopt similar reforms. If the states that have taken the opposite approach by raising income taxes see slowed economic growth as a result, they will hopefully serve as a cautionary tale to other states that might be considering these proposals.
---
As the LA Times reports, the Obama administration has vowed not to approve any cuts to Medicaid during budget negotiations:
Preserving Medicaid funding became even more crucial to the Obama administration after the Supreme Court ruled last summer that states were not required to expand their Medicaid coverage. Administration officials are working hard to convince states to expand and do not want any federal funding cuts that could discourage governors from implementing the law.

"There is a big irony," said Ron Pollack, executive director of Washington-based Families USA, a leading Medicaid advocate. "The fact that the Supreme Court undermined the Medicaid expansion is now resulting in greater support and a deeper commitment to making sure the program is not cut back."

Paying for Medicaid remains a major challenge for states. The program has been jointly funded by states and the federal government since it was created. And many states, including California, Illinois and New York, have had to make painful cutbacks in recent years to balance their budgets by reducing physician fees and paring benefits, such as dental care.
However, protecting Medicaid spending — without changing incentives for the healthcare industry or patients — does not necessarily mean improved health outcomes for beneficiaries. As of 2011, nearly one-third of doctors said that they would not accept new Medicaid patients because they are losing money on those who they do see, indicating not only a lower quality of care for Medicaid patients compared to those on private insurance, but reduced access to care. Under the current Medicaid structure, states are incentivized to spend more to receive larger federal matching funds grants, but at the same time federal requirements limit opportunities to improve quality of care through innovation.
The State Health Flexibility Act proposed by Representative Todd Rokita (R-IN) proposes a way to change these incentives. Under the State Health Flexibility Act, state funding for Medicaid and the Children's Health Insurance Program would be capped at current spending levels. At the same time, states would be released from many federal Medicaid mandates and instead would have the flexibility to determine eligibility and benefits at the state level. Rokita proposed this bill last year, and parts of the bill made it into the House budget.
While this bill seems unlikely to make any progress under the current administration, it mirrors reforms proposed by at least one democratic state governor. Oregon's Governor John Kitzhaber, a former emergency room doctor, received a Medicaid waiver in 2011 to receive a one-time $1.9 billion payment from the federal government to close the state's Medicaid funding gap. In exchange, he promised to repay this money if the state failed to keep Medicaid costs growth at a rate two-percent below the rest of the country. Kitzhaber sought to achieve this by allowing local knowledge to guide cost savings. The Washington Post reports:
Oregon divided the state into 15 region and gave each one a set amount to care for each patient. These regions can divvy their dollars however they please, so long as patients hit certain quality metrics, like ensuring that adolescents get well-care visits and that steps are taken to control high blood pressure.

The hope is that each of the 15 regions, known as coordinated care organizations, will invest only in the most cost-effective health care. A behavioral health worker who can prevent emergency admissions becomes a lot more valuable, the thinking goes, when Medicaid funding is limited.
While the Oregon plan is not a block grant — the federal government has not capped the amount that it will provide to the state — it does share some similarities with the State Health Flexibility Act. The state and its designated regions have a strong incentive to provide their Medicaid recipients better health outcomes at lower costs because if they fail the state will have to repay $1.9 billion to the federal government. Additionally, the state and the regions have the freedom to find cost savings at the level of patients and hospitals, which isn't possible under federal requirements.
---
According to Keynesian economic theory, many recessions have little or nothing to do with underlying (structural) economic problems. Instead, recessions are the result of a crisis in confidence. People are simply freaked out and therefore not spending. And when they are not spending, others are not earning income and so the economy suffers.
Keynesians argue that the government can cure this crisis in confidence by borrowing (deficit spending) to fund an increase in government purchases. If people are too freaked out to spend, the logic goes, the government can spend for them. And this spending has a multiplier effect, rippling throughout the economy.
You might be wondering how the government is able to get something for nothing. Government has to borrow the resources from the private economy, doesn't that mean that the government is competing with private borrowers who have their own plans to invest in the economy? Doesn't that mean that government investment displaces or crowds-out private investment? The Keynesians, being clever economists, have an answer for this. Their answer is that during a recession there are "idle resources." That is, individuals and businesses are too freaked out to undertake any major investments and so there is money just lying around. The government can borrow it without displacing any private activity.
Most Keynesians (and by this I mean the economists, not most politicians and pundits who subscribe to Keynesian theory) recognize that this is only a short term phenomenon. Obviously, there comes a time when government borrowing will, indeed, displace private economic activity. That's why Keynesians believe that the multiplier is larger during a recession and its why they counsel that stimulus should be "timely, targeted, and temporary," as Lawrence Summers famously put it in December 2007.
Leaving aside the question of whether government can effectively spend the money, is it true that the government purchases multiplier is larger during recessions? A new paper by Michael Owyang (St. Louis Fed), Sarah Zubairy (Bank of Canada) and Valerie Ramey (UCSD) examines this question:
A key question that has arisen during recent debates is whether government spending multipliers are larger during times when resources are idle. This paper seeks to shed light on this question by analyzing new quarterly historical data covering multiple large wars and depressions in the U.S. and Canada. Using an extension of Ramey's (2011) military news series and Jordà's (2005) method for estimating impulse responses, we find no evidence that multipliers are greater during periods of high unemployment in the U.S. In every case, the estimated multipliers are below unity. We do find some evidence of higher multipliers during periods of slack in Canada, with some multipliers above unity.
Remember, the way the government calculates GDP, $1.00 in government purchases, automatically increases measured GDP. So a multiplier "below unity" (<1) implies that government purchases displace private economic activity, that stimulus shrinks the private economy.
The paper can be found here.
---
How should a public sector pension plan invest its assets? A trend since the 2007 financial crisis is public pension funds making up for losses by seeking higher returns in riskier portfolios. Michael Corkery at The Wall Street Journal takes a look at the Texas Teachers' Retirement Fund which is placing more of its assets in private equity in an attempt to "hit its target" of 8 percent annual returns. Therein lies the problem.
Due to how public pension liabilities (i.e. the benefits owed to retirees) are valued (based on the expected return on plan assets), there is pressure to invest plan assets to achieve a targeted return that is linked to how the liability is valued. This approach is deeply flawed and been criticized often. Instead, plan assets should be invested in a way that hedges the risks inherent in the liability. These risks include changes in wages and interest rates since the value of the retiree's benefits is affected by changes to wages and are usually indexed to inflation.
In a recent paper in the Journal of Pension Economics and Finance entitled Portfolio Allocation for Public Pension Funds, George Pennachhi and Mahdi Rastad find that a "benchmark" portfolio for public pensions would consist of 160 percent fixed income, with a 9 percent short position in equities, a 67 percent short position in hedge funds and a 24 percent investment in private equity. A short position implies the fund should borrow in other asset categories to increase its holdings in fixed income. Where short selling isn't feasible or permitted  one would take a 100 percent position in fixed income.
Instead public plans tend to invest assets with a view towards meeting a numerical goal. Over time, this has led plans to increase their exposure to higher risk investments, changing the composition of pubic sector plan portfolios from being more heavily invested in bonds (almost exclusively so in 1952) to more heavily invested in high-return, high-risk investments like real estate, with the average plan exposed to a 21 percent investment in alternatives.
There are two inter-related problems here. Firstly, the liability is undervalued based on high-risk discount rates and secondly, the asset investment strategy is focused on targeting returns rather than hedging risks in the liability. An unfortunate but predictable result of this flawed linkage between liability valuation and asset investments is that during a downturn, plans have opted to "double-down" on risk and expose plans to potentially bigger losses down the road.
Indeed, as plans continue to fall short of return expectations many are turning to alternative investments including "exotics," a strategy  that shows no sign of abating, according to Pensions & Investments.
---